Pirate Fest Entertainment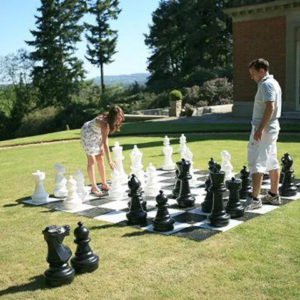 Throughout the Pirate Village
Giant Chess (King 25″ tall)
Cornhole
Jumbie Jam steel drum
Tether-ball
Beach Volleyball
Pirate Olympics (2x a day in Arena)
Stocks photo op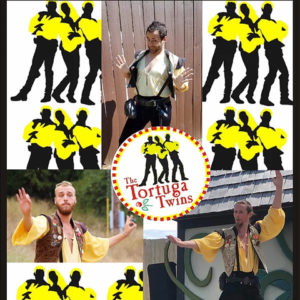 Interactive Comedy Show (PG)

Globe Stage 4x a Day
Outrageously unpredictable and audaciously hilarious, these three "twins" are improv comedy storytellers extraordinaire. Their special blend of stage comedy and audience participation has been labeled "Funny-Bone-Breaking Humorous." See the Tortuga Twins twist the legend of Robin Hood into a tale fraught with laughter, frivolity, and a Merry Man or two. https://www.tortugatwins.com/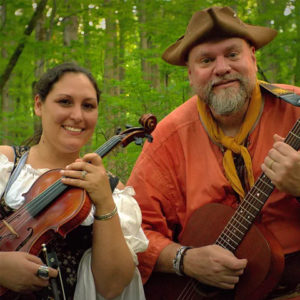 Pirate Music - Greater Knoxville

Venetian Stage 4x a Day
Singing and entertaining pirates! The CrossJacsks are a guitar and fiddle combo from East Tennessee, performing an sea shanties, Irish/Celtic folk, old time fiddle music, and other festival favorites. https://www.facebook.com/crossjacks/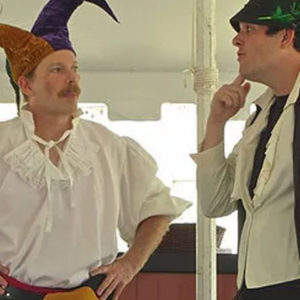 Comedy-Improv, Knoxville

Venetian Stage 4x a Day
Einstein Simplified performing as Blackbeard Simplified. These beloved captains of comedy have been entertaining greater Knoxville since 1994. Join them as they take suggestions from the audience and make everything up on the spot for your entertainment! https://www.facebook.com/EinsteinSimplified/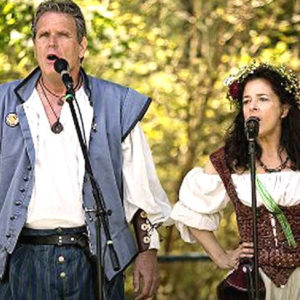 Rousing Celtic & Folk Music

Venetian Stage 4x a Day
This theatrical couple play old-time Renaissance, Celtic, and Folk music, with rousing Sea Chanteys thrown in! Sing and clap along, or just listen as this talented duet tell stories and weave enchantment with their romantic vocal harmonies! They might even teach a round or two. Performing regionally in TN, KY, VA, NC, SC since 2009. http://www.thunderandspice.com
Tom Mason & the Blue Buccaneers
Pirate Music from Nashville

Globe Stage 4x a Day
Meet a wild band of Nashville musicians who dress like pirates and play a rollicking mix of piratical sing-alongs, rousing historical rave-ups, afro-cuban tinged ballads, Cajun sea shanties, and bluesy Irish jigs. https://www.tommason.net/​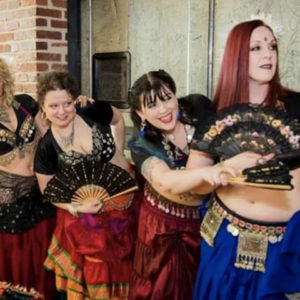 Oct 19-20 Only

Venetian Stage 4x a Day
New! Misfit Gypsies founded in 2002, members Paula Nidiffer and Teresa Thompson, have been sharing their love of Middle Eastern (fusion) dance in the Tri-Cities and surrounding region for over 15 years. Their collaborative efforts with both artistic direction and choreography allows them to offer audiences a truly unique dance experience. Both members teach and perform regularly around the region in venues ranging from intimate cafes to full-scale theater productions and festivals. ​Gypsy Spirit is a "sister troupe" performing with and under the direction of Misfit Gypsies, and accompanies the Misfits at entertainment venues throughout the region. Members Heather Stroup and Christina Stitt bring their unique backgrounds to their performances and love to express their passion for dance. https://www.facebook.com/Misfit-Gypsies-237287961333/ https://m.youtube.com/watch?v=xmKqYJ_K2Ng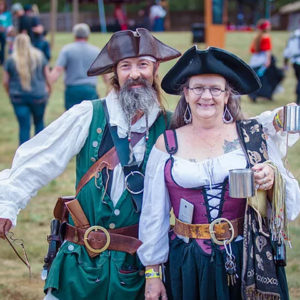 Have a great pirate costume? Enter the costume contest and win a prize! Contestants are grouped by age (4 and under, 5-12, 13+) and winners are based on audience applause.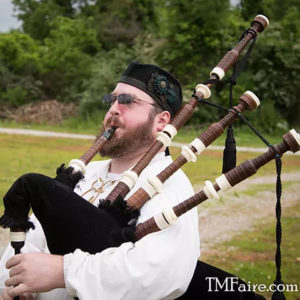 Have a talent? Pirate Captains are looking for new crew with talent for long voyages. Delight the crowd or you might get gonged!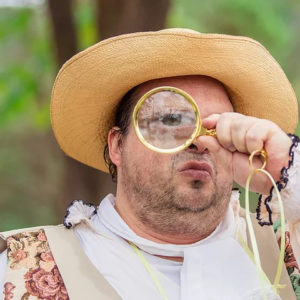 Royal Players, Greater Knoxville

Venetian Stage 1x a Day
The Governor of Port Royale is celebrating his birthday and everyone is invited, including pirates. His fearless staff have enlisted a variety of entertainers that are sure to please him and his guests — YOU!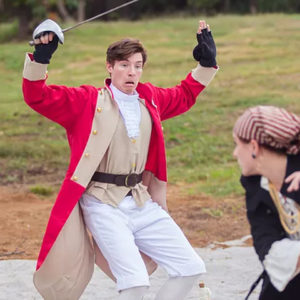 Royal Players, Greater Knoxville

Croquet Area 2x a Day
Upper class British amusement turns into a pirate invasion! Both sides will fight to get what they want! Cheer on your favorite side.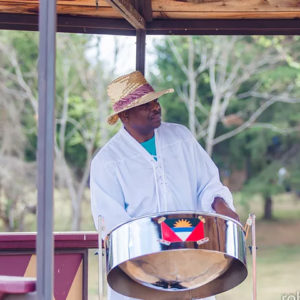 Feel transported to the Caribbean with Esmond Edwards of PanEZ Steel Drum! He's from the Caribbean island of Antigua, and came to Knoxville for the 1982 World's Fair. Esmond has performed in many states and even in Okinawah, Japan!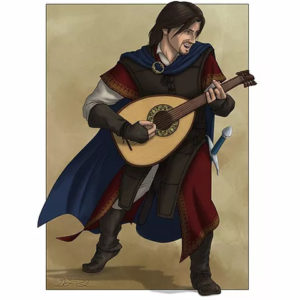 Celtic & Adventure Music

Pub -- All Show Days
"Bards" were travelers; lovers; and tellers of news, adventure, and romance. Master Timothy of Chattanooga will share his skills on the guitar, transporting you to a life of love and adventure. You too can right the wrongs, live passionately, and love truly. HUZZAH for the MAGIC of the BARD!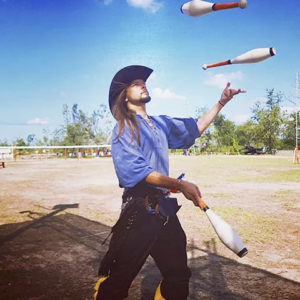 About Port Royale All Show Days
NEW! Joey the Juggling Pirate has traveled the seven seas collecting weird illusions and mastering exotic feats of skill to the amazement of audiences everywhere! https://www.facebook.com/thejoeyvarner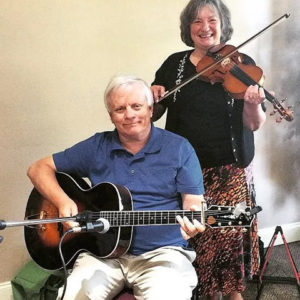 Americana & Celtic Music
Townsend, TN

Gazebo 4x a Day
George Kraushaar and Dianne Gruber share a passion for discovering and playing Appalachian fiddle tunes, traditional Old Time, Americana, and Celtic melodies. They play guitar, mandolins, banjo and fiddle in various combinations. Their "front porch" style will take you back to the way music was played before electronics invaded our lives. gruber.d.r@gmail.com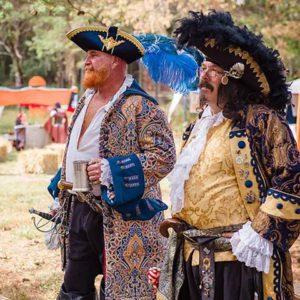 Royal Players, Greater Knoxville

Happy Holly Stage 1-2x a Day
Want to be a pirate? Come to this pirate school and learn how to sing, speak, and dress like a pirate! ARRR!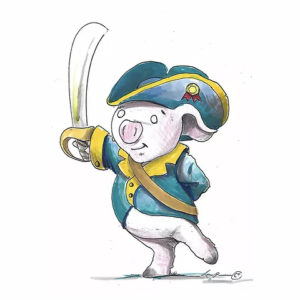 Captain Chester, Defender of the Caribbean
Royal Players, Greater Knoxville

Happy Hollow Stage 1-2x a Day
NEW story by Lars Paulson. Children of all ages will enjoy these interactive shows.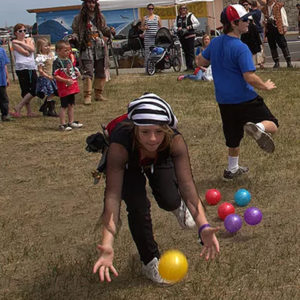 New! Join in the fun with pirate sports!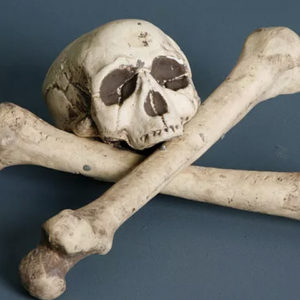 Interactive show 2x after Combat Croquet
New self-guided scavenger hunt with slightly spooky walking tour in the woods (7-10 min). See humorous pirates in their last moments. But are they alive?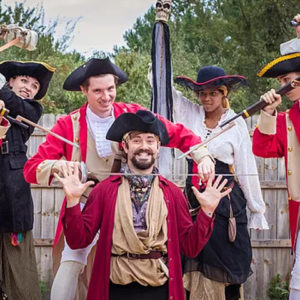 Greater Knoxville

About Port Royale All Show Days
Interactive, costumed street characters welcome and entertain you in Port Royale in the Tortugas.