Vendors Wanted -- TN Pirate Fest
Items should be custom made and fit within the Age of Piracy
(circa 1600-1800s)
Vending application deadline April 2.  But, we accept vendors in open categories as they pass the jurying process.   
After the deadline, we will continue to jury and accept quality vendors until full (see open categories below). 
Payment holds your place and is due by April 17 or after approval. 
Please read Vending Call, Guidelines, and Participant Rules

before

applying (see red buttons below).
OPEN CRAFT Categories (no resale):
Blacksmith

Costumes

Hair-braiding

Musical instruments

Weaving

Other period arts and crafts
OPEN FOOD Categories:
Baked Goods

Snacks (jerky, roasted nuts, popcorn…)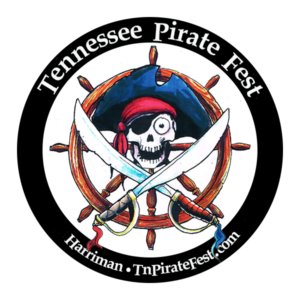 Last 2 weekends in May 2023
(Sat/Sun) and Monday of Memorial Day
May 20-21 • 11a–6p ET
May 27-28-29 • 11a–6p ET
Roane County Health Department Information for Food Vendors