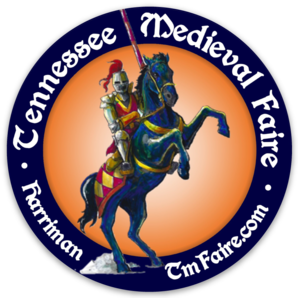 Entrance ticket provides all day family fun:
Live Jousting!  Music! Comedy!  Robin Hood Interactive Characters!
Games, Crafts, Food, and Beverages available for purchase.
2021 Medieval Faire ticket prices include all fees and taxes.
No ATM onsite. 
Entrance tickets will be available at the ticket house
on show days for Cash or Credit (same price). 
$19 Adult (ages 13+)   
$9 Children (ages 5-12)
Toddlers Free (ages 4 & under)   
Free Field Parking 
Festival Beverage Tickets are also available in $1 increments for Cash or Credit.
Beverage Prices:  Water $2, Soda $3, Beer $5.  Pay with beverage tickets OR exact change.
To drink beer, an individual must be at least age 21+ with valid photo ID.
Our vision is to create a successful permanent site outdoor event facility as an economic engine based on arts, entertainment, and tourism for Harriman, Roane, County, and East Tennessee.
Our mission is to seek and train talent; and provide a venue for actors, musicians, and vendors to do what they love.
Our goal is to create the highest quality, live, outdoor entertainment experience for our patrons and participants.